(As of 11/16 we are currently full please call before you bring your deer. Sorry for the inconvenience right now we are full and are not taking anymore whole deer until further notice.)
HUNTERS!!!
Deer Processing $90.00 with hide on
or $85.00 without hide
(There is an extra $10.00 charge for frozen deer with the hide on,
please try to bring your deer with hides on before they are frozen
in some cases we may not take frozen deer with hides on depending on how many we have at the time)
Custom Meat Processing for Wild Game
First, you provide the meat you would like us to process. We cut the meat, and wrap it to your specifications then freeze your meat until you arrive to pick it up. Need it done fast? Just let us know and the order will be done as soon as you need it.
Game Pricelist
Butchering Elk - $75
Processing bull elk- $250.00
Processing cow elk - $225.00
Any elk over 400lbs. hang weight is charged .62lb on hanging wt.
Processing Deer - $85.00 per animal
All Butchering or processing on Sat. or Sun. is extra charge of $50 per animal
To Grind and stuff your trimmings into burger, please call ahead- $.50 lb.
Sausage Pricelist from your own trimmings….
Sausage
(from your own meat (BEEF/PORK/VENISON/GAME) trimmings)
Polish- $2.75lb
Country Style- $2.75lb
Smoked Brats- $2.75lb
Summersausage- $2.75lb
Bologna- $2.75lb
Wieners- $3.30lb
Fresh Brats- $2.35lb
Jerky- $2.80lb
Beerstix- $3.00lb
Dried beef or venison- $2.00lb
Breakfast Sausage- $1.55lb
Brk patties- $2.00lb Brk Links- $2.50lb
Chorizo (very spicy breakfast sausage)- $2.00lb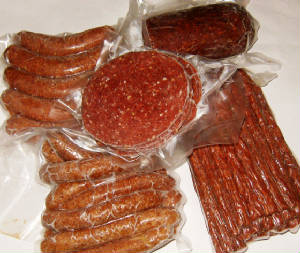 If the customer provides their own pork we take off market price of pork per pound. Some sausage can be made with all beef. Please ask.
You can add-
Cheddar- $.50lb
Wild Rice- $.50lb
Jalapenos- $.15lb
All sausage is packaged in 2-3 lb vacuum bag or paper unless you specify different, smaller packaging is .35 per package EXTRA
All sausage is normally made with 50% pork
(Except Beerstix are 20% pork)
Prices are based on end weight of sausage except jerky, beerstix, and dried meat is charged on starting weight.
ALL PRICES SUBJECT TO CHANGE DUE TO MARKET